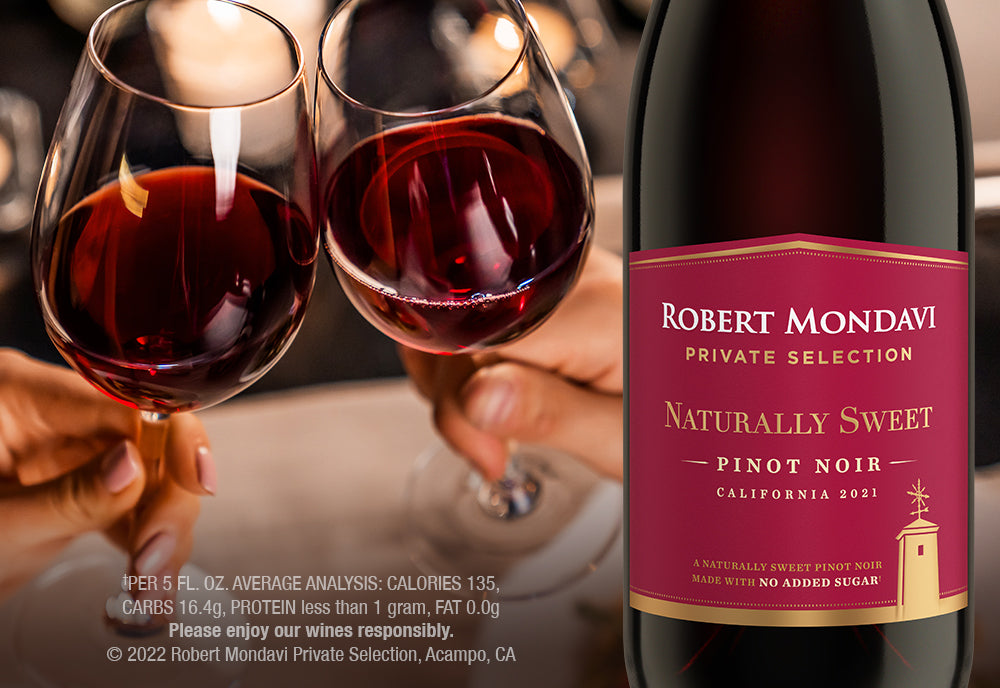 Wine Made Sweet, Naturally
Our Naturally Sweet wine brings a sweet offering to the table that's perfect for all savvy sweet tooths. We turned to the winemaking process to bring our elevated take on sweet wine to life. The wine is made sweet naturally by pausing fermentation early in the process so 100% of the sweetness comes from the grapes' naturally occurring sugar. Crafting the wine in this way means it is made with no added sugar†, and it is also lower in alcohol* to offer a more thoughtful indulgence. There has never been a better excuse to bring a bit of sweetness into your day.
†PER 5 FL. OZ. AVERAGE ANALYSIS: CALORIES 135, CARBS 16.4g, PROTEIN: less than 1g, FAT 0.0g
*When compared to Robert Mondavi Private Selection Pinot Noir. Robert Mondavi Private Selection Naturally Sweet Pinot Noir Alc. 9.0% by Vol. compared to Robert Mondavi Private Selection Pinot Noir Alc. 13.5% by Vol.

Naturally Sweet Pinot Noir
Naturally Sweet Pinot Noir is a sweet style Pinot Noir made by gentle crushing and destemming the fruit, then arresting the wine midway through fermentation. Our fermentation protocol is designed to retain the grapes' natural sugar and highlight the natural flavors of black cherry, plum and raspberry. The wine shows off rich color, fruit-forward aromatics, and exceptionally soft tannins. Judicious oak aging adds notes of vanilla and spice to the wine.