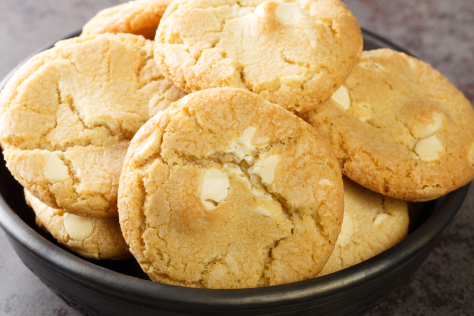 Buttery Chardonnay and White Macadamia Nut Cookies
<<BUTTERY CHARDONNAY>>
INGREDIENTS:
¾ cup butter, softened
¾ cup brown sugar
¾ cup granulated sugar
1 egg
1 tsp vanilla extract
2 ¼ cup flour
1 tsp baking soda
1 cup macadamia nuts, chopped
1 cup white chocolate chips
INSTRUCTIONS:
Preheat oven to 350°F. In a medium bowl, combine flour, salt, baking soda, and salt. Set aside. In a mixer, beat together butter and sugar until smooth. Beat in egg and vanilla extract. Gradually stir in flour mixture. Fold in macadamia nuts and white chocolate chips. Use a tablespoon to measure out dough and place onto a parchment paper-lined baking sheet about 2 inches apart. Bake until slightly golden, about 10 to 12 minutes. Serve with a glass of Robert Mondavi Winery Private Selection Buttery Chardonnay.