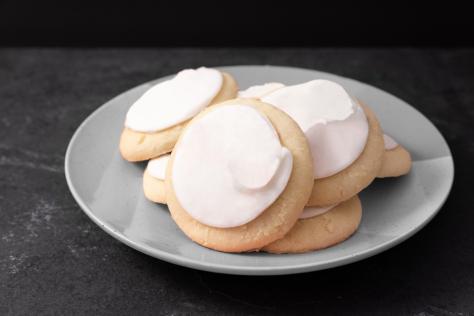 Chardonnay and Sugar Cookies
<<CHARDONNAY>>
INGREDIENTS:
For the Frosting
¼ cup Robert Mondavi Winery Chardonnay
1 stick unsalted butter, softened
2 cups powdered sugar
1 tsp vanilla extract
For the Cookies
1 ½ cup butter, softened
1/3 cup sugar, extra for rolling
1 cup flour
½ tsp vanilla extract
INSTRUCTIONS:
For the Frosting
In a mixer, whisk butter on high until creamy, about 3 minutes. Slowly add sugar until combined then add vanilla. Continue beating until desired texture is reached.
For the Cookies
Preheat the oven to 350°F. Mix butter and sugar on high until fluffy. Add vanilla extract and mix until combined. Turn mixer to low and slowly add flour. Mix until no longer crumbly. Use a tablespoon to measure dough and roll into small balls. Roll dough balls into additional sugar. . Place each on a parchment paper lined baking sheet, about 2 inches apart. Bake until golden brown on the bottom, between 10 and 14 minutes. Place cookies on a wire rack to cool. Once cool, frost and serve with a glass of Robert Mondavi Winery Chardonnay.