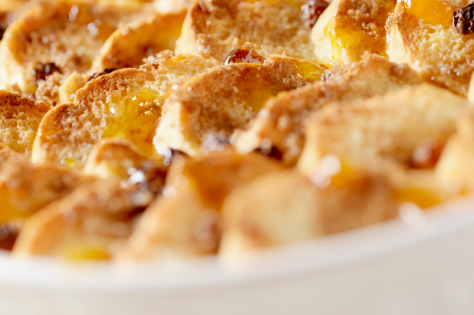 White Wine Bread Pudding
INGREDIENTS:
1 cup sugar
½ tsp ground cinnamon
½ tsp ground ginger
¼ tsp ground nutmeg
3 large eggs
Zest of one orange
1 cup Chardonnay
1/3 cup melted butter
5 cups (about half a loaf) of French bread, cut into 1 to 2 inch cubes
½ cup sliced almonds
1/3 cup raisins
¼ cup crystallized ginger
INSTRUCTIONS:
Preheat oven to 350°F. Butter a 9-inch baking dish. In a large bowl, whisk together the sugar, cinnamon, ginger, nutmeg, eggs, and orange zest. Then, add in the wine and slowly whisk in the cooled butter until well combined. Add the bread cubes, sliced almonds, raisins, and crystallized ginger. Using your hands, toss to make sure that all the pieces of bread are well coated with the mixture. Let soak for 10 minutes. Pour the mixture into the buttered baking dish and bake for 45 to 50 minutes, until the top is golden brown and crispy.